Dear Electronics Colleague:

As we come off the SMTA International in Chicago (co-located with the Sensor Expo), there are a few takeaways. There were many discussions on QFN voiding on the SMT side and lots of IoT ideas on the sensor side.
2 weeks ago I had a chance to do a group bike ride under a full moon. Halfway through the ride, the leader asked us all to turn our lights off. As the night went on, we made our way into the woods to retrieve our "adult recuperation beverages."
Best regards,
Bob Wettermann
President, BEST Inc.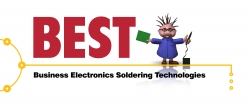 Go, Cubs, Go!!!
Need To Be Precise in your Wire Stripping?
There are numerous wire stripping methods but none as precise and effective on very fine gauge wires as BEST's techniques. One of the most common uses of lasers is cutting through the insulation on wires in the middle of a conductor length (window panning).
BEST lasers will ablate or selectively "burn off" the materials precisely and selectively. Another great application for this type of wire stripping method is when precision of the strip length is critical as the pulse energy of the laser can be controlled through "beam steering" the laser source. These and other select applications make laser wire stripping the method of choice in certain wire prep applications.
Contact Laura Ripoli at 224-387-3255 or send her your requirements at lripoli@solder.net to see how we can be of service.
Make BGA Reballing Easy
Are you tired of the existing reballing methods being in the hands of process experts due to the complexities and the dexterity required? Are you looking for a faster reballing method? The BEST EZReball process is an answer to your reballing problems. In fact, it is recognized in IPC 7711/21 Procedure 5.7.6. as one of the ways to reball a BGA. It allows for better yields and faster reballing times.
Contact Chris Edwards (cedwards@solder.net) at 847-797-9250 for more information.