Dear Electronics Colleague:

This past week, I had the pleasure seeing Iggy Pop perform with Queens of the Stone Age at the Chicago Theater. The band was amazing and Iggy can still do his thing at 68 years old!
In February, BEST was presented Circuit Assembly's NPI Award for the HeatShield Gel at the IPC APEX Expo in San Diego. Sponsored by Circuit Assembly Magazine, the NPI Awards program recognizes the electronic assembly industry's new leading products.
HeatShield Gel is a thermal shield water-based gel designed to be used in the PCB rework/repair or board assembly areas in order to provide thermal protection of electronic components.
For more information, visit our HeatShield Gel product webpage or call Chris Edwards at 847-797-9250.
All the best,
Bob Wettermann
President, BEST Inc.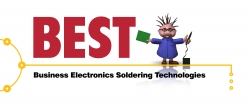 High Volume PCB Rework
BEST has performed printed circuit board repair services for projects ranging from 1 board to 175,000 boards, and guarantees that 100% of your boards will be returned to you without damage. For information on our rework services, contact Laura Ripoli (lripoli@solder.net) at 847-797-9250.
Check out our video which shows a large QFP replacement under a shield with a very challenging pitch.
Metal vs. Plastic
Stencil Video
BEST Inc. recently held a webinar presentation comparing the methods and results for mini metal stencils versus flexible film stencils for rework. If you missed the webinar, we've posted the video on our YouTube channel. Additionally, you can find the frequently asked questions posted on our website here.
If you have any questions regarding metal or plastic stencils, call Chris Edwards (cedwards@solder.net) at 847-797-9250.
IPC Training News
This past March, our instructor, Francisco Fourcade, welcomed a beautiful baby boy into the world. The next time you're at BEST for IPC solder training, tell him congrats!
Francisco is our bilingual instructor, with the ability to teach courses in both English and Spanish. He is an MIT in the IPC J-STD-001, A-610, and 7711/21 certifications.
Give Alex Conley (aconley@solder.net) a call at (847) 797-9250 or visit our training page to find out when Francisco or any of our instructors are available for IPC courses at our facility or yours!