September 2006
There have been several new changes in the BEST world. We are fortunate to have Kris Roberson join our firm as an IPC Master Instructor. Kris brings very good communication and people skills to his profession, but also a wealth of SMT manufacturing experience.

In addition, BEST has joined forces with Cookson Electronics on its CoolCap(TM) product line which allows you to bring the exposed temperature of heat sensitive devices down to a point where they are not damaged either in rework or during the original reflow process.

See you at SMTAI!!!!
Bob Wettermann BEST Inc.
Thermal shields protect IC components during rework
CoolCap (TM) protects adjacent IC components from secondary solder joint reflow due to stray heat from and during the pcb rework or repair process. It fits common BGA and QFP size packages specifically developed for PCB rework operations. CoolShield(TM) protects passives and odd shaped components against excessive heat that can compromise the device reliability during the original SMT reflow process.

For the rework version of the CoolCaps(TM)....... All devices are reusable Enables fast set up and high rework throughput and yield. Provides up to 60°C temperature reduction for the adjacent component package body. Provides up to 35°C temperature reduction for the protected component solder joints. Prevents secondary reflow. Reduces the need for device-specific rework nozzles. Protects adjacent components from additional stray heat present with non-specific nozzles. Rests directly on the PCB, and does not require the use of adhesive or clean up.

Please call Katy Radcliff at (847) 797-9250 or visit the BEST web site for further details on how CoolCap(TM) may help you in either your rework or original SMT reflow process to protect heat sensitive components such as connectors, electrolytic capacitors or devices with underfill or globtops.
Proper Maintenance of Soldering Tips
The latest in the series of soldering tips demonstrates how to get more life out of soldering iron tips. The proper maintenance of solder tips will save you in consumable tip costs as well as insuring the highest continual quality in your hand soldering results.

BEST Instructors have put together video demonstrations of common hand soldering tips and skills. These are not designed to be in place of live one on one training where repetitive skills and subsequent one on one feedback is given. Rather, they are quick refreshers designed to be viewed if a specific skill has not been practiced in a while. You can view the soldering tips instantly using your Flash player or you can download a video file version of your choice for later review.
Ask the Expert on Your Hand Soldering, PCB Rework and Repair Questions
BEST is proud to introduce its "Ask the Expert" corner, featuring helpful, educational and timely answers to some common and not-so-common questions brought to you by Kris Roberson. If you would like to see your question answered, you can email Kris at This email address is being protected from spambots. You need JavaScript enabled to view it..

Kris brings over 14 years of electronics industry experience including SMT manufacturing and instructor experiences to our students. His education includes a Pilot's License as well as airframe and power plant mechanics licenses. Kris has experience as a machine operator, machine and engineering technician as well as an electronics and process engineer for companies as Motorola, US Robotics, and Bose, Fuji placement machines, Universal placement machines, DEK screen printers, Electrovert and Vitronics-Soltec wave soldering machines are all pieces of equipment that Kris has run and maintained. Kris has earned the highest certifications awarded by the IPC in electronics training, being certified as an Master Instructor in IPC7711 / 7721, IPCA 610 and the JSTD-001.
EU-Contracted Oko Institut RoHS Exemption Report Published
The July 2006 version of the Oko Institut report on RoHS exemptions requests, which contains open details on the EU consultant's analysis and recommendations for all but the first round of exemptions, is now available. From a total of 88 exemptions requests, 27 are being recommended to be granted.
New PCB Land Repair Kit
Our Land Repair Kit is designed to repair lifted or damaged lands on circuit boards. This kit was specifically designed to make the repair process as simple and effective as possible. This kit includes 3 different tin plated circuit frame patterns, which offer nearly 3 times as many usable replacement land patterns as other circuit frames. Unlike dry film circuit frames, BEST circuit frames have no shelf life and can be used on both lead-free and tin-lead finish circuit boards.

This kit includes the following items:
BEST Edge Connector Circuit Frame tin plated
BEST SMT Trace Circuit Frame tin plated
BEST Trace Repair Circuit Frame tin plated
Professional stainless steel tweezer
X-acto knife
Resin/Hardener
Orangewood sticks for epoxy mixing

Please call Katy Radcliff at extension x32 if you have questions on this and other other PCB repair tools.
Want to Make Your Own Portable Game Over the Holidays??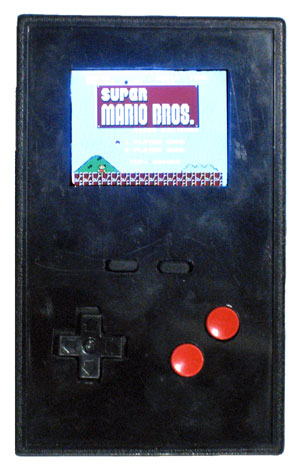 So there is a graduate student working on his thesis when all he really could think about was playing Arkanoid. His original game was non-functional and he did not even have a TV. Lucky for him he had a couple things kicking around his workbench. Here he comes up with a design for a very simple, very inexpensive portable Nintendo gaming system with built in games. There are no provisions for cartridges, but its comfy to play. Check it out and impress your friends.
More BEST information
email: This email address is being protected from spambots. You need JavaScript enabled to view it.
phone: (847) 797-9250
web: http://www.solder.net