August 2006
I trust that the summer months have been fun. Our family has recently enjoyed a trip to the upper Midwest in the lower part of Michigan.

In this newsletter you will find several interesting teaser articles with references to more complete information on the topic. Take a look at what's going with the RoHS proposed legislation in California-it will make your blood boil. Please review your specifications for cleanliness requirements after reviewing our brief discussion of cleanliness testing methods. If you need further direction on the repair of solder mask after reading our comments on this procedure please do not hesitate to call.

Don't forget to take advantage of our 10% discount for all training sessions booked in September and October! See the coupon below and call Katy Radcliff to redeem your discount.
Bob Wettermann BEST Inc.
Cleaning and BGA Reballing
After the reworking of components, especially high speed BGAs and CSPs, it is important to maintain a level of cleanliness post processing. BEST has the capability to either assure or document a given level of device cleanliness if your specifications demand this.

The Omega Meter, Ionograph, and ZeroIon are used by a number of assemblers for quality assurance purposes. These instruments compare the conductivity of the extract solution before and after testing. The "result" of this testing is reported as a sodium chloride (NaCl) equivalent per unit area.

Ion Chromatography (IC) is a tool that can be used for precision testing and process base lining. This test system can quantify and identify specific ionic species that are present on an electronic device. The most common test method is the IPC TM-650 2.3.28. The device is placed into an ionically-clean bag and is immersed in an extract solution of 75% alcohol and 25% deionized water at 80C for one hour. This is a much more rigorous extraction method than the methods used by automated ROSE equipment. The IC then separates and detects each individual ion for which it was calibrated. Typical systems detect and measure fluoride (F-), chloride (Cl-), bromide (Br-), nitrate (NO3-) nitrite (NO2-), phosphate (PO4-), sulfate (SO42-), and weak organic acids (WOAs). Results are reported in g/in2.
Repairing Damaged Solder Mask
Solder mask can be damaged by a number of things including but not limited to board handling, hand soldering, rework operations or burned devices or even the original board manufacturing process.

The damaged mask can be easily repaired by a skilled PCB repair technician following the guidelines of the IPC 7721 procedure.
The following TOOLS & MATERIALS are required for this repair: Brushes Cleaner Liquid Mask Foam Swabs UV Lamp Microscope Wipes
PROCEDURE:
1. Clean the area. Make sure the surfaces to be coated are cleaned prior to coating to ensure adequate adhesion, minimized corrosion, and optimized electrical properties.
2. If needed, apply Kapton tape to outline the area where the solder mask will be applied.
3. Apply the replacement mask to the board surface as required. A brush or foam swab may be used to apply and spread the epoxy or replacement coating.
4. Cure per the manufacturers' suggested guidelines with a UV spot curing system or by placing under a UV lamp
Call BEST if you need help with these or other repair procedures.
RoHS California Update
The RoHS machine grinds on. It would seem though that California's legislature is beginning to craft its own RoHS version. Assembly Bill AB2202 is designed to mirror most of the European legislation's provisions. The bill, as it stands right now is due to go into affect in 2010.

Here is an excerpt from the draft :
(h) (1) The department shall adopt regulations establishing a process whereby a manufacturer or distributor of an electronic device or component may seek an exemption or time extension to a sales prohibition pursuant to this section upon demonstration to the department that the device or component meets the criteria developed pursuant to paragraph (2).
(2) In developing a process, including criteria, for evaluating a request for exemption and time extension, the department shall consult with effected stakeholders, including representatives from the manufacturers, distributors, and environmental groups.

As currently drafted the California legislature will consider its own exemption process with its own exemption board. It looks like the bureaucrats (another 49 similar ones to follow???) keep creating more governmental regulations. Hopefully it will use and actually allow scientific evidence as input.
Nano Soldering Iron ???
An atomic-scale conveyor belt may be the smallest soldering iron ever created. The new device, discovered by a researcher at the University of California in Berkeley, ferries molten metal. It is made from carbon nanotubes just 20 millionths of a millimetre in diameter.

The discovery could pave the way for nano-machines that are pieced together from smaller components, rather than emerging from chemical reactions.

"There has been a dream for many years to build nano-structures piece by piece, like building a large-scale machine," explains Alex Zettl, who built the nano-soldering iron. "Then the structure is no longer constrained by the chemistry of its components", he says.

Currently, nano-probes can nudge atoms one at a time from one place to another. But to generate the flow of molten material necessary to solder parts together, hundreds of thousands of atoms must be moved

Zettl begins by spraying pure carbon nanotubes with gaseous indium. The metal then condenses into solid droplets between one and 10 nanometers wide. Using a nano-manipulator built in his lab he connects the tubes to a circuit and applies a small voltage. Heat from the resulting current melts the droplets, which move along the nanotube's surface and collect as a bubbling liquid at the negative end. Reversing the voltage shunts indium to the other end, meaning the movement is driven by electricity rather than a thermal effect. And varying the voltage changes the flow rate of liquid. The liquid bubbles could be wicked off the ends of the tubes and used to solder tiny parts together
New PCB Land Repair Kit
Our Land Repair Kit is designed to repair lifted or damaged lands on circuit boards. This kit was specifically designed to make the repair process as simple and effective as possible. This kit includes 3 different tin plated circuit frame patterns, which offer nearly 3 times as many usable replacement land patterns as other circuit frames. Unlike dry film circuit frames, BEST circuit frames have no shelf life and can be used on both lead-free and tin-lead finish circuit boards.

This kit includes the following items:
BEST Edge Connector Circuit Frame tin plated
BEST SMT Trace Circuit Frame tin plated
BEST Trace Repair Circuit Frame tin plated
Professional stainless steel tweezer
X-acto knife
Resin/Hardener
Orangewood sticks for epoxy mixing

Please call Katy Radcliff at extension x32 if you have questions on this and other other PCB repair tools.
Want to Make Your Own Portable Game Over the Holidays??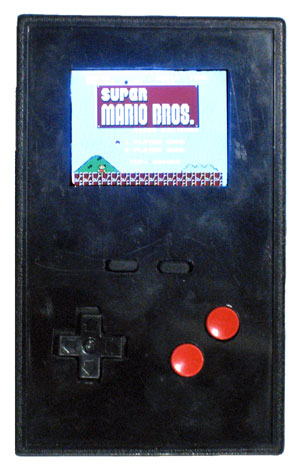 So there is a graduate student working on his thesis when all he really could think about was playing Arkanoid. His original game was non-functional and he did not even have a TV. Lucky for him he had a couple things kicking around his workbench. Here he comes up with a design for a very simple, very inexpensive portable Nintendo gaming system with built in games. There are no provisions for cartridges, but its comfy to play. Check it out and impress your friends.
More BEST information
email: This email address is being protected from spambots. You need JavaScript enabled to view it.
phone: (847) 797-9250
web: http://www.solder.net